GENDER INEQUITY IN SPORTS GOES FAR BEYOND THE U.S. WOMEN'S NATIONAL SOCCER TEAM.
BY LUCY DIAZ     Jul 17, 2019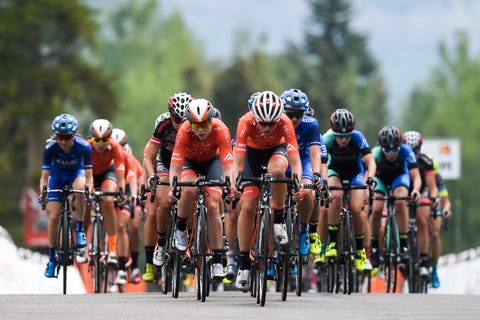 As joyful as it was to watch the U.S. Women's National Soccer Team (USWNT) bring home another World Cup title, it was a painful reminder of the vast gender gap that still exists in 2019, particularly in sports. Gender inequality continues to prevail in most professional sports—and professional road cycling is among the worst, with a vicious cycle of hugely disproportionate funding, payouts, support, and attention bestowed upon the sport's men vs. women.
For 21 days in July, the Tour de France reminds us what's broken in professional cycling: that the sport's female pros receive unequal pay, little TV and media coverage, and significantly less opportunity to race. The average UCI men's WorldTour team has a budget of approximately $16 million; the average women's team budget is a mere $200,000. Ironically, even though there is currently no Tour de France for women (just La Course, a one- or two-day race that many of the top women feel is conciliatory), the first American to win a Tour de France was a woman—Marianne Martin in 1984, when there was a parallel women's race during the same three weeks as the men's. The men's winner that year—Laurent Fignon—won $100,000 and a mountain of prizes. Marianne got $1,000 and a trophy.